No info so far, the only thing that is known for sure is that Rafati did not appear at Köln's stadium to referee today's match (Köln-Mainz). According to "Kölner Express", the Hannover referee has tried to commit suicide.
The message which arrived the German football world a few minutes ago horrifies me.
He was found in his hotel in Köln with slashed wrists. The police departments in Köln and Hannover have confirmed that.
The bank clerk and stockbroker with Iranian background was elected as 2nd worst referee of Bundesliga in 2010 and will lose his FIFA badge in 2011. His debut match in Bundesliga was Köln-Mainz in 2005.
There was no referee who could have been able to replace him, hence the match will be played during the next weeks, but this is surely of second priority at the moment.
Update, 19/11, 18:00: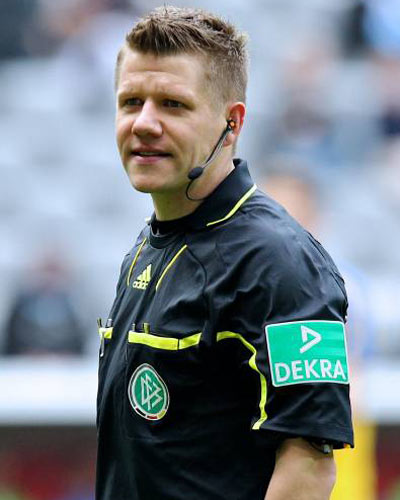 Patrick Ittrich
DFB head Dr. Theo Zwanziger who went to Cologne to get more information has revealed further information concerning Rafati's fettle:
At 13:30, his assistant referees Holger Henschel, Patrick Ittrich and Frank Willenborg recognized his absence at the pre-match-meeting in Hyatt Hotel, Köln. Due to the fact that Rafati did not react when they knocked on his room's door, a service man broke up the door. They found Rafati lying in the bath tub streaming with blood. Parts of some kind of farewell letter have been found but have not been analyzed yet.
They did everything they were able to in order to help Rafati, he was immediately taken into hospital where medicines fought for his life for hours. To call a spade a spade: when the remaining four matches were kicked off, his condition was more than critical.
Holger Henschel
Just 20 minutes ago,
a representative of the hospital explained that Rafati's life is out of danger.
This is certainly the most important message, the best of this day.
Patrick Ittrich informed Herbert Fandel, upon consultation with DFB general secretary Niersbach and the DFL, the match has been postponed.
My hopes are at the moment that Rafati as human will be recovered soon, that his relatives, but also Holger Henschel, Patrick Ittrich and Frank Willenborg will be able to cope with their experiences.
Frank Willenborg
Thanks to his assistant referees' efforts, he had a chance to survive. Their role has to be emphasized.
Zwanziger stressed the role of the enormous pressure the officials have to cope with. Even though this is only an assumption, the only lesson we can learn from that as neutral observers is - when we are talking about or critizing referees in both, a positive and negative way - that we should be aware of the fact that we are talking about humans.
Best wishes, Babak!