Turkish official Firat Aydinus has been nominated to be in charge of Wednesday's classic clash between FC Bayern München and Valencia CF. I doubt that someone in our community would have expected that before, personally I was pretty much stunned by this appointment for some reason.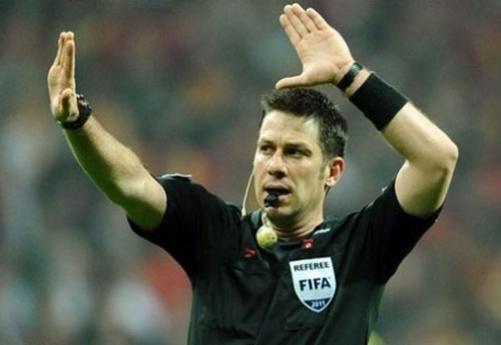 The match
Bayern München and Valencia CF met each other seven times during UEFA club competitions' history. Their last meeting took place in 2000/2001, where Bayern defeated the Spanish side after penalty shoot-out in the UEFA Champions League final at Milano's Giuseppe Meazza.
Bayern München were the hosts and the defeated team in last season's UEFA Champions League final. They are ranked as the second best team in UEFA's club coefficient list covering the last five seasons and were furthermore fourth-placed in 2011/12.
Valencia CF joined last season's UEFA Europa League semifinal where they lost both legs against Atlético Madrid. With the aid of this remarkable progress, they reached the seventh place in the coefficient list in 2011/12. Taking the entire list into account, including all the seasons starting from 2008/09, Valencia are placed as number 10.
While Bayern München logically joined the first pot in this year's UEFA Champions League drawing, Valencia had a safe place in the second pot.
The match will be played in front of a crowd of more than 60.000 supporters at Munich's Allianz Arena.
The referee
Firat Aydinus, born on 25th October 1973, is classified as Elite Development Group referee by UEFA since last year. He made his international bow in 2006 and has on paper still six years of international refereeing.
Despite more than 150 matches in the Turkish SüperLig, he never managed a real break on international level. His palmarès reveals four UEFA Europa League matches (one of them in 2008/09, the rest in 2011/12), two FIFA World Cup qualifying matches, one UEFA EURO qualifying match, a couple of less important or at least less sonorous UEFA Champions League and UEFA Europa League qualifying matches and ... - that's it.
His three UEFA Europa League matches in 2011/12 were: Club Brugge 2-0 Maribor, Malmö 1-4 Metalist Kharkiv, Legia 0-3 PSV Eindhoven. He issued sixteen yellows and three straight red cards, one in each match. In August 2012, he received his first match after a while when he was in charge of Dinamo Moskva - VfB Stuttgart in Europa League.
At the training camp for Elite (Development) referees and a few First Group officials in Antalya, Turkey, in 2012, he failed a decisive fitness test and therefore refereed no match in the second half of the season. He merely accompanied Turkey's number 1 Cüneyt Cakir in his semifinal between Barcelona and Chelsea in CL.
Some background info might be helpful as well.
Senes Erzik, the currently oldest member of any UEFA standing committee, is deputy chairman of UEFA's referee committee.
Jaap Uilenberg, member of UEFA's referee committee, is in charge of the Turkish officials' training. The same counts for Jörn West Larsen, a well-known Danish UEFA referee observer.
Along with Cakir, Aydinus was the first professional referee in the Turkish top division.
I am sorry, but I do not find a logical reason for this appointment. Since he is a member of UEFA Elite Development Group, this match certainly poses kind of test, underlined by the important observer Bo Karlsson of Sweden. Nevertheless, I actually thought this match required an internationally more experienced referee.
The decision to nominate this referee for such a match seems to be of political nature, either as kind of self-service by pulling strings, or to promote professional referees.
I do not target at blaming Aydinus before he will have his Champions League debut, I neither question his potential or already existing class as a referee.
Let's wait and see how he will do.
However, the facts that a) there is no logical coherence between the background of this match and the referee appointed for it, that b) it is a surprise that a referee, who has not handled more than four group stage matches in both UEFA club competitions in his entire career, gets a match of this format and that c) it equates a blatant injustice to certain other referees make me irritated.