There have been contradictory announcements and rumours with regard to the date when Massimo Busacca and his crew decide on the 33rd team that will participate in 2014 FIFA World Cup. The referees and assistant referees are very likely going to be selected on 15 January. This means for us: time for predictions!
This text will focus on only one confederation - on the Asian Football Confederation. In the next days, the remaining confederations are supposed to follow so that a final list of predicted World Cup referees will emerge. In the following lists, you can find the cell "Community Vote". The percentages you can find there refers to our game "Your World Cup 2014" conducted at the beginning of this month. They hence equate the relative frequency of the respective referees' appearance in the community's World Cup lists. This means that this percentage shows in how many of your votes their name has appeared.
AFC (Asian Football Confederation)
AFC will be probably allowed to have 4+1 places in the final World Cup list (4 main referees, 1 fourth official). The percentage of the five referee teams most frequently voted for by the community has been marked in bold!
These officials have been on the latest pre-list for the World Cup:
REFEREE with ASSISTANT REFEREES










































Analyzing and predicting the situation in other confederations is not easy. As European, following matches and performances beyond UEFA is the first problem. A second problem is that it is difficult to understand and gauge political circumstances and habits that might have an impact on the World Cup selection. So these predictions will be very vague but maybe, with some luck, close to reality.
First of all, one referee team pre-selected by FIFA can be erased from the pool of potential World Cup teams.
Ali Al Badwawi
from UA Emirates has been persecuted by some bad luck over the last months. Having been at the peak of AFC refereeing back in 2011, when he among others handled a semifinal at AFC Cup and when he attended FIFA U-17 World Cup in Mexico, he suffered from serious injuries in 2013. For this reason, he was unable to attend several seminars and tournaments, such as U-17 World Cup 2013 played in his mother country or the latest edition of FIFA Club World Cup, where he was replaced by Iranian Alireza Faghani. These injuries are not Al Badwawi's fault at all, but it is quite sure that they expose a very high hurdle for him and his team. If they want to break down these barriers, Al Badwawi must be fit in January and must choke off every doubt on his fitness. And I personally consider latter as very unprobable. Busacca must pay attention to the best fitness possible among his officials, even though it would be tough for the Arabian. Therefore, I don't expect him on the final list, which is reflected by the low percentage gained from the community.
Based on this assumption, six referees would remain. Two referees can be quickly talked about.
Ravshan Irmatov
of Uzbekistan and Japanese
Yuichi Nishimura
have surely counted to the top 5 of FIFA World Cup 2010 referees. They both showed impressive performances in partly difficult matches such as Netherlands - Brazil or the opener match between South Africa and Mexico. Both confirmed this extremely positive impression in the following months by handling the Club World Cup finals in 2010 and 2011 respectively. In 2012, both attended the Olympic Games, which however was not the best tournament of their careers. Then, Irmatov and Nishimura were nominated to take part into FIFA Confederations Cup 2013. You know the story. While Irmatov committed a technical mistake in the group stage match between Italy and Brazil, Nishimura had several problems in Spain - Uruguay where he missed a clear penalty plus a red card for dogso. Irmatov was subsequently sent home after the group stage, Nishimura was only fourth official in the third place match. Nonetheless, I have no doubt that they will appear on the final list for the World Cup. Their advantage is that they have a very strong assistant referee duo behind them. They are unequivocally two of the currently best referees of the world and will be reliable men to handle matches like Uruguay - England, Chile - Spain or, who knows, maybe even the revival of the last World Cup final or the opener match between Brazil and Croatia. Leaving one of them at home would be a "crucial mistake"...
Asia has a new top-class referee called
Nawaf Shukralla
. Having been talented and in development back in 2011, he was trusted a lot by the necessary men in charge of AFC refereeing and reached the past climax of his career in 2013: a very good performance in Japan - Australia, a very good U-20 World Cup including the semifinal between France and Ghana and finally a brilliant performance in the Champions League final between Guangzhou and FC Seoul. Plenty of good arguments to be selected for next year's World Cup. He is a calm referee whose style somehow reminds me on Irmatov's, as both are allowing play to develop as much as possible. Another good argument needed? His countryman Mr Abdulrahman Delewar is joining FIFA's Referees' Committee.
In my opinion, these three officials should be sure names for the World Cup list. But three are remaining who must fill the last two places.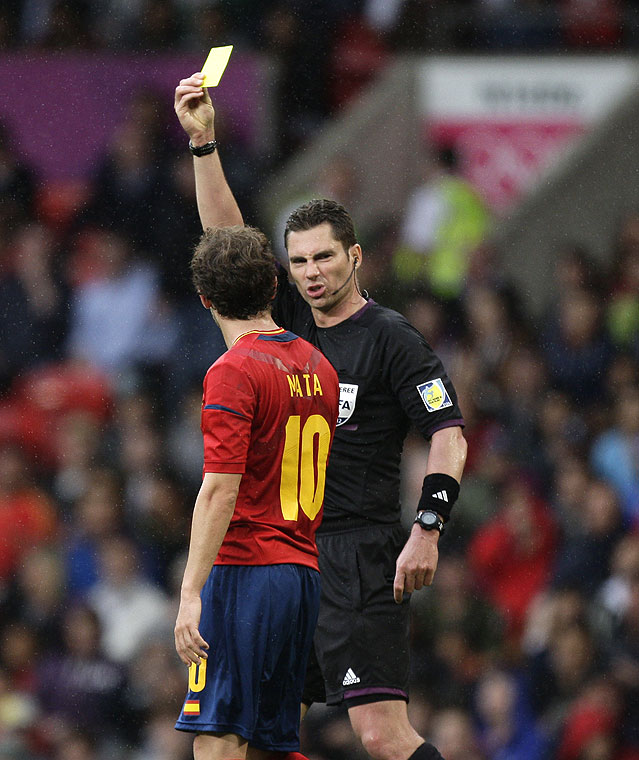 Mark Shield was the last Australian who appeared at a World Cup. That was in Germany, in 2006. This is not so long ago, but one thing was vitally different: Australia's football federation still belonged to OFC and thus, a place for an Australian referee was absolutely guaranteed. This has changed and as a consequence, Matthew Breeze failed to join World Cup 2010. This time, it is
Benjamin Williams
who is striving for the tickets to Brazil. The young official faced several controversies in the past years when showing very weak performances and making very obvious mistakes leading to conspiracy theories in Asia. One example for that was Kuwait - China at AFC Cup 2011. However, the committees in Australia, in Asia and in Zurich obviously trusted and believed in him. And Williams has repaid that. He showed good performances in the qualifiers (in particular in his play-off match) and in his matches at U-20 World Cup 2013 and closed this year with a semifinal in AFC Champions League. Following this final, he received an official award by AFC which crowned him as the best Asian referee of the year.
Khalil Ibrahim Al-Ghamdi
, you will certainly remember this name from the last World Cup. He took control over Mexico - France and Chile - Switzerland. To be honest, he rather took charge of it than control over it. There was not any control in his second match and an exaggerated sending-off for a Suisse player was one result of it. He is a very pedantic referee insisting on every Law of the Game, which is basically a good intention, but sometimes leads to chaotic matches with more cards than needed. However, in AFC, he has often proven to be a reliable and good referee for important matches. For example in Mexico - France, his performance has been good as well. He has the needed experience and could be a safe name for the next World Cup. Busacca and the committee would not risk anything; they know what they'll get when nominating Al-Ghamdi, who maybe has the AFC committee behind him. A Saudi-Arabian and an Omani are sitting in the referee commission and thus could support Al-Ghamdi, his assistant referee Al-Shumrani and Omani assistant referee Al Mayahi, who has been very good at several FIFA competition matches.
Khalil Al-Ghamdi made a technical mistake in one of his U-17 World Cup matches though. He first whistled for a penalty and, seeing that the ball going into the goal, changed his mind by awarding the goal. Irmatov did the same at Confed Cup, but contrary to the Arabian Irmatov enjoys a certain credit. Al-Ghamdi has not learnt from the mistake of his colleague, the rule did not arrive in Asia obviously. So I have many doubts on this referee. A difficult choice to be made, since there is another referee from this region..
Iranian
Alireza Faghani
is a quite young referee with great ambitions and chances for the future. He was first tested by FIFA at U-20 World Cup 2013 where he handled Chile - England and Mexico - Spain in an overall good manner. As mentioned above, he also took charge of matches at Club World Cup 2013. One of them was the 3rd place match between Guangzhou and Mineiro. He correctly sent off Ronaldinho (yes,
the
Ronaldinho) for a violent conduct but failed to dismiss a Chinese player for the same offense a second earlier. Additionally, his first assistant referee Hassan Kamranifar unfortunately missed a pretty clear offside position leading to the decisive winning goal in the additional time of the second half. Obviously, he needs time to extend his skills and collect experience. Given the fact that Busacca actually did not plan to nominate Faghani for a second tournament, it is quite obvious that he did not have him in mind as a very sure name for the World Cup. 2 matches at a tournament cannot be enough to be convinced of a referee, which of course does not exclude the possibility that Faghani's AFC CL performances have attracted Busacca's attention. Therefore, my conclusion is: Faghani is a good referee with many chances for 2018. But 2014 comes too early. Personally, I would prefer him over Al-Ghamdi, but predictions do not always have to be in line with one's wishes. His only chance is to be appointed as fourth official only to collect experiences.
Then, the relevant question would be who will be fourth official only. Geopolitically, Al-Ghamdi would make sense. Then, there would be an Arabian referee, a Central Asian referee, an Eastern Asian team and finally an Australian team. However, you don't have to appoint Al-Ghamdi just to be fourth official. Faghani could execute this duty in the same manner. And after this technical mistake by Al-Ghamdi, I have plenty of doubts whether FIFA can rely on this referee. Therefore, I expect that Williams will be active on the pitch while Faghani heads the Asian standby team. But as mentioned above, all that is vague and very difficult to predict. I tried to read Busacca's mind more than once and still did not succeed in it..
Anyway, this is my prediction for the Asian referee crew at World Cup 2014:
REFEREE with ASSISTANT REFEREES

ASIA (AFC) –

4 REFEREE TEAMS + 1 STANDBY TEAM