The Third Team can confirm several reports issued by various newspapers reporting about a directive that is planned to be given to UEFA's top-class referees instructing them to avert the so-called triple punishment in future matches.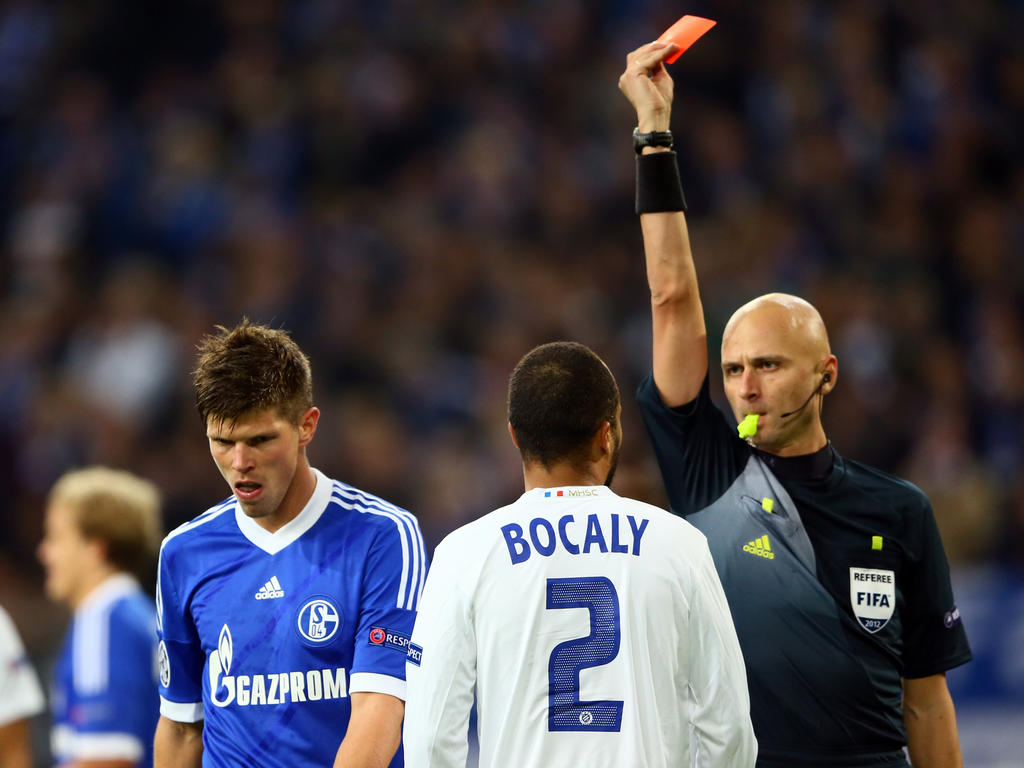 Sergei Karasev administering a "triple punishment" in UCL
According to the current version of the Laws of the Game, referees are forced to send players off with a direct red card as soon as they have denied an obvious goal-scoring opportunity, regardless of where the infringement occurred (referring to inside or outside the penalty area only). If the infringement happened in the penalty area, referees naturally have to award a penalty kick in favour of the team that were fouled. The penalty kick (and mostly the goal), the red card and consecutive suspensions are widely called triple punishment (for the team offending the infraction). Plenty of former players, football experts and specially football politicians have been considering this circumstance as too harsh. Their basic argument is that, by awarding the penalty kick, the obvious goal-scoring opportunity is recreated, so that a red card is not necessary any longer. Agreeable to this point of view, a yellow card should be issued against the offender.
Specially UEFA president Michel Platini is one of the persons favouring the abolishment of the triple punishment. Now, the Frenchman, in whom a former football player, a football expert and a politician have surely unified in a unique manner, has therefore decided to ask UEFA Referee Committee headed by Pierluigi Collina to instruct their top referees accordingly. In the knockout stage of the two major UEFA club competitions, this guideline will first come into effect.
Since the literal change of the Laws of the Game requires the IFAB's approval, this directive is only an advise or guideline. For now. As several powerful men inside FIFA (and maybe IFAB, too) are making pressure for this definite change of the Laws of the Game for a while, it is quite probable that UEFA's guideline could be kind of a blueprint in this matter. Unfortunately, Platini never was a referee and is therefore missing the adequate feeling for the Laws of the Game and spirit of football. What he and his companions seem to forget is that the red card was never only thought as a compensation for the denied obvious goal-scoring opportunity, but rather dealt with as a punishment for the offense and try to prevent a goal from being scored at all. Moreover, it was surely a deterrent factor. And some questions remain open. What if a player deliberately handles the ball on the goalline à la Luis Suarez? What if the consecutive penalty kick of any dogso-infringement does not lead to a goal, keeping in mind that a penalty kick exposes a different psychological pattern for the attacking team? How do you want to sell that to players and football fans, who consider a red card as a true and mere matter of justice after a deliberate infringement to be classified as dogso?
Actually it must have been painful for Collina and co. having received this order by Monsieur Platini. It must feel hard to instruct one's referees such an absurdity. We'll see how the referees will deal with such situations in the k.o. stage - provided that appropiate incidents will occur, of course, which hopefully won't be the case. Otherwise, referees will be in a huge dilemma due to this populistic move by the FIFA-president-to-be.